Gastite® P2™ offers the flexibility and key features of our original CSST, with the added benefit of an integrated containment sleeve in UV resistant polyethylene.
Developed as a solution for unvented voids, the external jacket has a ridged underside, which creates space between the outer jacket and the inner pipe, allowing for gas to ventilate should it need to.
Key features of Gastite® P2™
No need for additional sleeving when installing in unvented voids.
Heat annealed for flexibility.
Pre-marked by the metre.
Compatible with XR2™ fittings which eliminate exposed steel beyond the nut.
No hot works for safer installations.
75% fewer fittings, when compared to traditional piping methods, meaning a safer system with less leak potential and reduced call backs.
Suitable for internal and external burial in accordance with manufacturer's instructions.
Connect directly to the meter box and appliance.
Suitable for all modes of construction, including residential, commercial, new build and industrial.
Gastite®  P2™ has been fully tested to comply with the CSST Benchmark scheme and all NHBC 2022 warranty requirements.
Gastite® P2™ has been tested and passed by two of the UK's leading UCAS accredited assessors and conforms to EUROCLASS reaction to fire rating B-S1 d0.
A product specific Gastite® P2™ Design & Installation guide is available.
Contact us to request a copy, or find our more about Gastite® P2™ here.
Check out our comprehensive range of Gastite® P2™ sizes and lengths: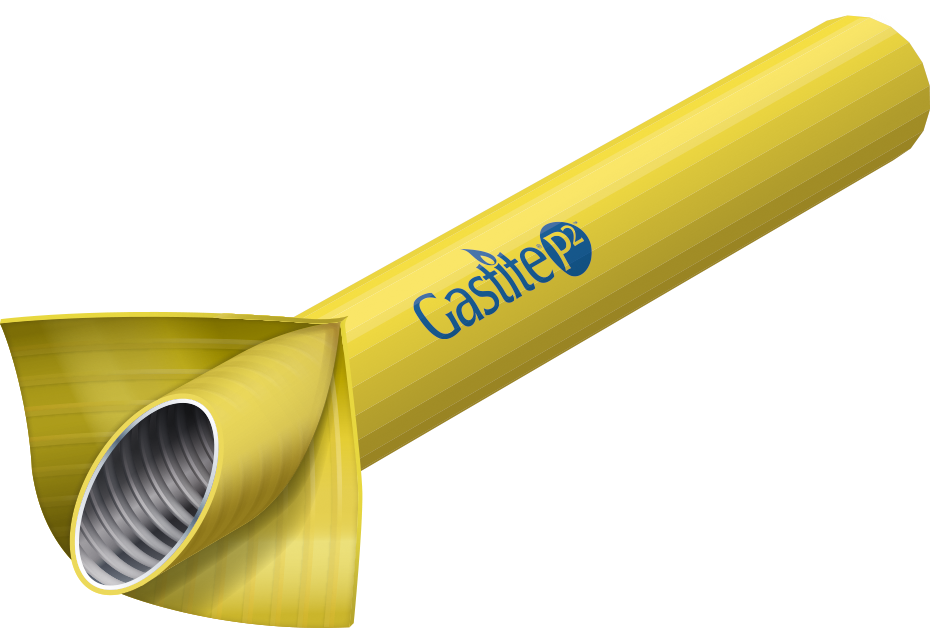 | | | | |
| --- | --- | --- | --- |
| Part No. | Description | Pkg. Qty. | KG (EA) |
| P2™ -KIT-DN32-15M | DN32 x 15M, 2 Male DN32 Fittings | 15M | 9.0 |
| P2™ -KIT-DN32-10M | DN32 x 10M. 2 Male DN32 Fittings | 10M | 6.7 |
| P2™ -KIT-DN25-15M | DN25 x 15M, 2 Male DN25 Fittings | 15M | 7.1 |
| P2™ -KIT-DN25-10M | DN20 x 10M, 2 Male DN20 Fittings | 10M | 5.4 |
| P2™ -KIT-DN20-15M | DN20 X 10M, 2 Male DN20 Fittings | 15M | 4.6 |
| P2™ -KIT-DN20-10M | DN20 X 10M, 2 Male DN20 Fittings | 10M | 3.5 |

Application:

For the supply of natural gas or liquefied petroleum gas to appliances.

Material/specifications:

Tubing: stainless steel 1.4306-304L 10.0
Inner sleeve: UV resistant polyethylene
Outer sleeve: ribbed, UV resistant polyethylene

| | | | | |
| --- | --- | --- | --- | --- |
| Part No. | Description | Pkg. Qty. | (Dia x Width) | KG (EA) |
| P2™ -DN50-45M | DN50-CSST-SLEEVED | 45M | 80cmx65cm | 59.6 |
| P2™ -DN40-75M | DN40-CSST-SLEEVED | 75M | 80cmx65cm | 66.8 |
| P2™ -DN40-45M | DN40-CSST-SLEEVED | 45M | 65cmx69cm | 39.8 |
| P2™ -DN32-90M | DN32-CSST-SLEEVED | 90M | 65cmx69cm | 61.9 |
| P2™ -DN32-75M | DN32-CSST-SLEEVED | 75M | 65cmx69cm | 52.3 |
| P2™ -DN32-45M | DN32-CSST-SLEEVED | 45M | 65cmx69cm | 33.5 |
| P2™ -DN25-90M | DN25-CSST-SLEEVED | 90M | 65cmx69cm | 46.7 |
| P2™ -DN25-75M | DN25-CSST-SLEEVED | 75M | 65cmx69cm | 38.4 |
| P2™ -DN25-45M | DN25-CSST-SLEEVED | 45M | 55cmx55cm | 25.2 |
| P2™ -DN25-30M | DN25-CSST-SLEEVED | 30M | 55cmx55cm | 18.3 |
| P2™ -DN20-75M | DN20-CSST-SLEEVED | 75M | 55cmx55cm | 29.2 |
| P2™ -DN20-30M | DN20-CSST-SLEEVED | 30M | 50cmX33cm | 12.7 |