Heard about Gastite® P2™ but wondering whether it is right for your next gas installation project? Check out some of our frequently asked questions below…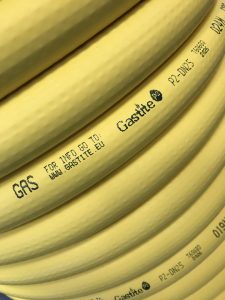 What is Gastite® P2™ ?
Gastite® P2™ is the latest addition to the Gastite® range and is a popular choice for projects that would otherwise require additional sleeving within unvented voids. Flexible, time-saving and with no need for hot works, Gastite® P2™ is the solution for unvented voids.
Can I pull the pipe through the building as I would with normal CSST?
Yes, Gastite® P2™ is supplied on one continuous reel and pre-marked by the metre and can be routed through structures in the same way as our original CSST. As with all CSST, it is essential the outer jacket remains intact, so being careful when moving around site is recommended. Removing any debris and placing down either cardboard, old carpet or something like a dust sheet to protect the pipe when pulling through, may help to offer protection from sharp corners. Once installed, the pipe should be inspected for any damage and repaired with self-amalgamating tape.
Can I firestop around Gastite® P2™ ?
In line with installation standards, (BS 6891 for domestic installations and IGEM UP2™ for commercial), when firestopping Gastite® P2™ , additional sleeving must be added – it is then fine to fire stop around that. Gastite® P2™ is a continuous sleeved system, in areas where you need to firestop it would require a section of additional sleeve to perform to the correct installation standards.
I already have some Gastite® XR2™ fittings, can I use them with Gastite® P2™ or is there a new range of fittings available?
Gastite® P2™ has been developed to be compatible with our existing range of fittings, simply order the same size fitting for the pipe you need from our range.
For ease, I'd like to use Gastite® P2™ throughout the installation, not just within the unvented void, can I?
Of course. Gastite® P2™ is made up of our original, BS EN 15266 approved pipe, which is wrapped in a second jacket of UV resistant polyethylene and as such has all the same applications.
A key benefit of Gastite® CSST is its flexibility, how does Gastite® P2™ compare?
Gastite® P2™ is a flexible solution and we have worked hard to retain as much of the flexibility that our original CSST offers. The addition of the secondary containment sleeve means the pipe requires a little more effort to bend into shape, but it is still achievable by hand.
Can Gastite® P2™ be run through a riser?
It can, and thanks to its integrated containment sleeve there is no need to ventilate the riser.
Can Gastite® P2™ be clipped?
Thanks to the protection the outer sleeve offers, Gastite® P2™ can be clipped directly. The type of clip used will depend on the installation, but in most cases either a metal (Munsen) or plastic clip with a securing device will be suitable. Where a cable tray is used to support the pipework, it can be secured to the tray, and to each other, by using suitably sized plastic cable ties.
Got a question about using Gastite® P2™ ? The team is here to help, call 01509 508939 to speak with a member of the team, or contact us.
Follow us
Become a
stockist today
Click Here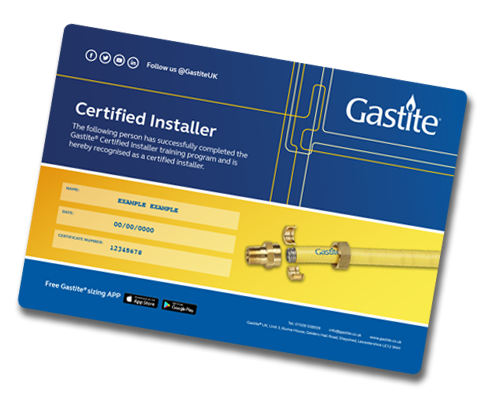 Become a
certified Gastite®
installer
Click Here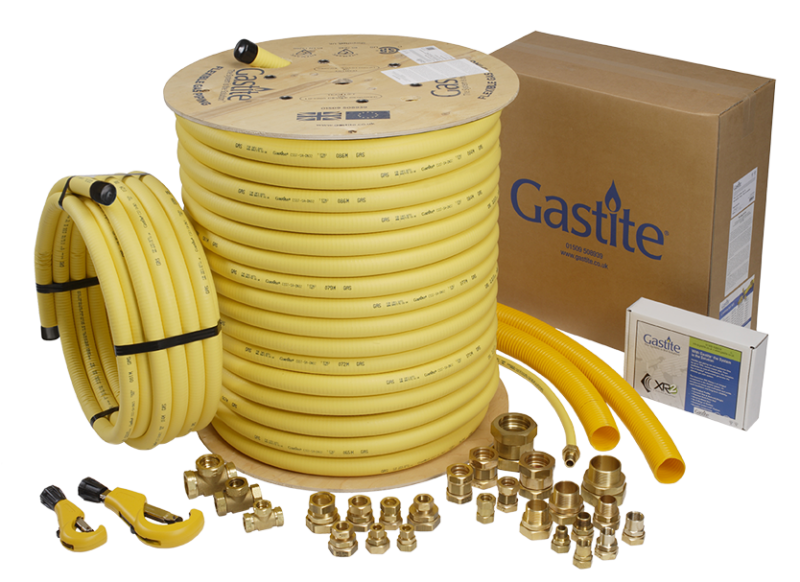 The Gastite®
range
Click Here