When it comes to specifying materials there's a lot to consider. Making the right choice is vitally important in ensuring each and every project is delivered on time and on budget.
Factors such as performance, cost, ease of installation, life span, maintenance and of course, safety, are all critical when specifying products and materials.
Guide to specifying Gastite® CSST and fittings:
Performance
Meeting relevant standards, Gastite® CSST is the professional's choice and performs in the most demanding of applications. Innovative Jacket-Lock® fittings eliminate exposed steel beyond the nut and the self-guiding assembly ensures a perfectly even flare for a gas tight seal every time.
Cost-effective
Gastite® is a cost-effective choice and can help contractors save time and money. Quicker to install than copper, a Gastite® installation has up to 75% fewer fittings, saving labour and material costs. What's more, fewer fittings means less leak potential and reduced call backs.
Ease of installation
Gastite® is suitable for use with all three family gases and can be installed within a wide array of projects; from residential to commercial, new build to industrial.
Gastite® is particularly suitable for projects with difficult layouts and obstacles; due to its superior flexibility. Pre-marked by the metre and supplied in a continuous length, Gastite® can be bent by hand, with no need for cuts or joints, making lightwork of even the most complex of installations.
Life span and maintenance
The UV resistant polyethylene jacket has been designed to withstand the rigours of installation. Offering thermal and UV resistance, the outer sleeve is tough and durable while still offering impressive flexibility.
Safety
Gastite® is a safe choice. Along with meeting relevant standards, it offers additional safety benefits, such as that, unlike copper, it can be installed without the need for hot works – ideal for sites where soldering is prohibited. What's more, because Gastite® is lighter than copper, it is easier to handle on site, thus reducing the physical strain on the installer.
How we can help…
While designed to be easy to work with, we understand that both specifiers and installers may have questions when it comes to choosing Gastite® .
With this in mind, we have developed a range of support resources:
Free sizing and design service
Working from existing plans and drawings, through our free sizing and design service our technical experts will plan the optimum installation route, identifying the length and size of CSST the project will require.
Any potential issues barriers will also be identified, with suggestions on how best to overcome them.
Online and onsite training
Our training programme has been designed to give delegates a solid understanding of working with CSST.
The course can be undertaken online or at a place of your choosing, (typically the site where installation is due to take place).
Topics covered within training sessions include:
Installation standards
How to terminate a Gastite® pipe
Interactive demonstrations (onsite training)
Burying Gastite® ®.
Whether online or onsite, following successful completion, delegates receive a Certified Installer card.
Sizing APP
Available for FREE download from Google Play and the App Store, the sizing APP easily calculates the size of CSST your project will require.
From the APP, users can also contact us and download the Design & Installation Guide.
Design & Installation Guide
An in-depth guide to the installation of Gastite® products, the Design & Installation Guide is available for free download and covers all aspects of the Gastite® system.
To find out more about specifying Gastite® products or for advice on installation, contact us or call the team on 01509 508939.
Follow us
Become a
stockist today
Click Here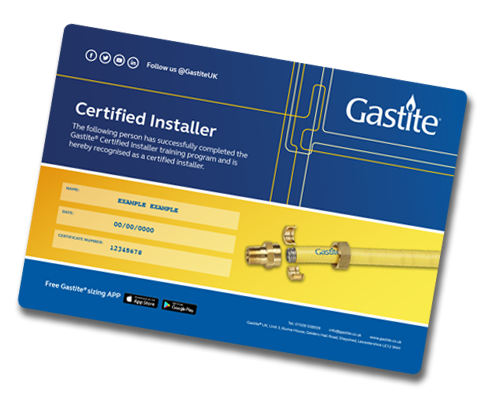 Become a
certified Gastite®
installer
Click Here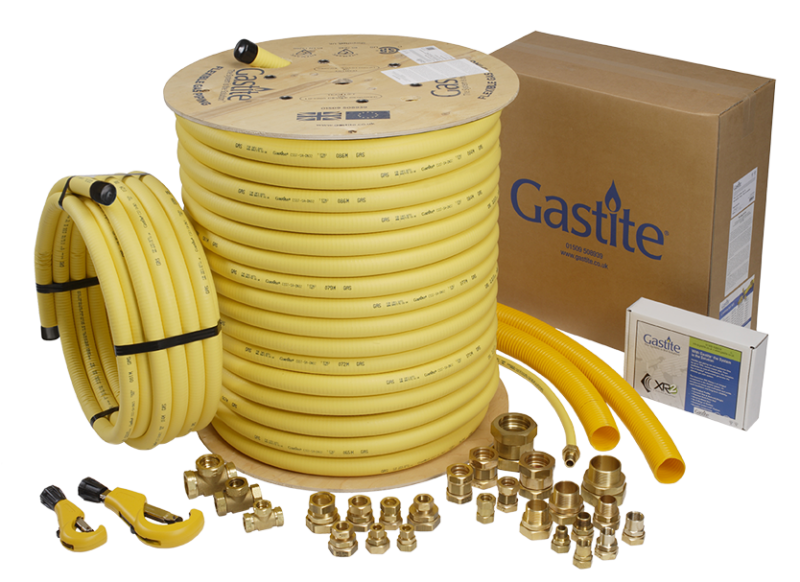 The Gastite®
range
Click Here